Exhibition Composition
1Partners Park
This area is for "Co-creation" to embody the future society of Society 5.0 with partners from all industries and sectors by setting original themes.
Concept of the Plan
The theme for 2022 is "Digital Garden City".
We aim to create a "park" where people from all industries and regions can come together to create new businesses, support the Digital Garden City, and envision a new society and lifestyle.
The content of the exhibition will be based on a theme set by the exhibitor, and in addition to participating with existing partner companies/organizations, new companies/organizations can be invited to support the theme through CEATEC.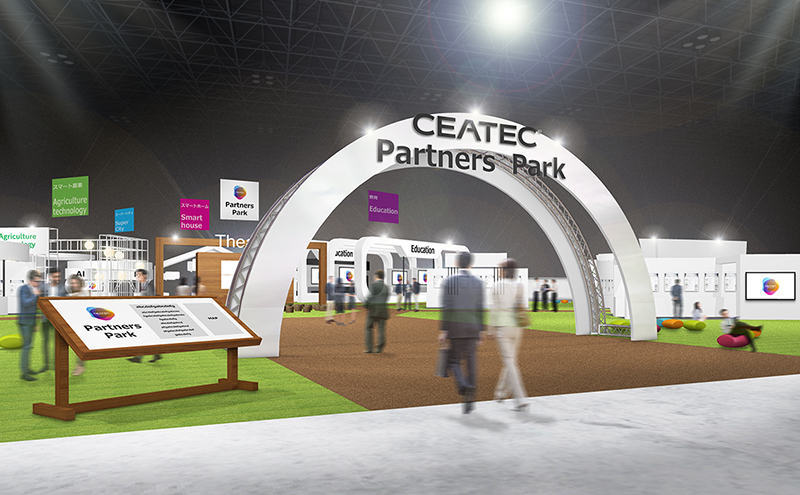 Eligible Participants
Companies/organizations willing to manage (plan, decorate, organize participating companies/organizations, and operate) a "Co-creation" area where people, technology, and information from various industries and business sectors gather under a unique theme aimed at the realization of "Society 5.0".
Participation Eligibility
Exhibitors must be capable of embodying the concept of Society 5.0 / Digital Garden City.
The area must consist of multiple companies/organizations (No single company/organization can exhibit alone).
A corner for hands-on experience must be set up in the relevant Partners Park.


Note: Exhibitors signing up for the Regular Partner plan are required to set up an experience corner in the shared space.

The representative company/organization applying to participate in the Partners Park area must organize all companies/organizations participating in the relevant area and submit the specified form to the organizer.
Booth standards and fees
Participation Fee
Exhibition Plan
Participation Space
Participation Fee
Premium Partner
81㎡ or over

JPY3,300,000


Additional charge for over 81 m²: JPY44,000
Regular Partner
27㎡

JPY1,100,000
Note: The Participation fee does not include various costs associated with the exhibition within the exclusive space of individual company zone. Expenses such as booth decoration, transportation of exhibit goods, hiring of management staff, and electrical utility will be charged separately.
Participation Benefits
Announcement on various CEATEC publications
Provide opportunities for co-creation with other Partners Park participating companies
Conferences (Streaming available on the dedicated channel for the Park)
Involvement in the CEATEC operations as a whole

only for Premium Partners

Provision of information on the visitor dynamics of CEATEC as a whole

only for Premium Partners

Set up original participation rules for the relevant park

only for Premium Partners
Deciding on the Booth Location
This will be decided by the organizer. Please note that participating companies/organizations will not be able to select their own booth locations.
How to Apply for Participation
Based on the application content, the organizer will confirm whether the company/organization is eligible for participation.
Once a company/organization has been selected, a meeting will be set up as needed.
The kick-off meeting of the Partners Park is scheduled for May.
How to Apply
To apply, download the application form from reference download pagein the CEATEC 2022 website (https://www.ceatec.com) and send in the form to the following email address.
Application period

February 22 (Tue) - April 28 (Thu),

2022
Send application form to
contact2022@ceatec.com
Partners Park Schedule (Planned)
February 22 (Tue), 2022
Start accepting applications
April 28 (Thu), 2022
Deadline for applications
Beginning of May, 2022
Decision of partners
Mid May, 2022
Partners Park Kick-off Meeting